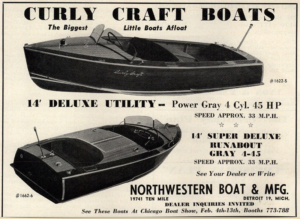 Welcome to the Official Gray Marine Company Website
The Graymarine Motor Company was America's premier marine engine builder for most of the 20th Century. Based in Detroit, MI, they produced engines for virtually any boat. The company produced a series of engines that ranged from simple sailboat auxiliaries to diesel engines for large motor yachts. They had a large business producing engines for the military and government and exported many engines during the Marshall Plan after World War II. The Graymarine Company also built many racing engines as both stock engines and engines that were designed and produced through their Custom Engineering Department.
The Graymarine engines that are of great interest today are those used in runabouts and speed boats such as Century, Lyman, Chris-Craft, and many other boat brands. Graymarine produced hundreds of models of engines for a variety of uses. However, the most recognizable ones would be their Fireball, Phantom and Lugger series, such as the Model 100, 6-112, the A6-244 cid series such as the 6-125, and the Fireball series (6-135, 6-136, 6-140, 6-150 and 6-160). The most common 4-Cylinder engines were the 25 hp Seascout, the 31 hp 4-112, the 140 cid Model 620, and the 162 cid engines such as the 4-162, 4-70, 4-75, 4-80, and the Fireball 4-90. Additionally, Graymarine was one of the first companies to use the V8 engine which remained quite popular in Century and Lyman boats.
The good news for Graymarine owners is that Van Ness Engineering has a long history with Graymarine and possesses the knowledge and parts to help maintain and rebuild your engine.